A video that's viral on social media right now shows the moment a contractor completely destroying their own work after claiming that they were not paid by the homeowner.
According to a report by KRDO, the incident happened in Colorado Springs, USA.
During an interview with KRDO, Amber Trucke said that she paid contractors from Dream Home Remodels of Colorado $3,330 (£2434.81) of an owed $7,555 (£5524.03) to rebuild her bathroom shower.
The contractors had done some other work in the house too, which includes fixing 2 fans and some work on the back door.
Trucke said that the contractors did not do a good job on the shower or the door and wanted to make sure that the plumbing worked before she would make the final payment.
Talking about the incident, she said:
I wanted to be wowed and I wasn't wowed. But I knew she was coming back Friday to clean things up and I figured maybe I'd be more impressed then. So I was not going to pay them until I saw the actual finished product.
In the vide, Amber could be heard asking the contractor to stop.
Terry James Gregory, the contractor, replied:
Is somebody going to pay me? Let me tell you something. No contractor in the state of Colorado will fix that when they found out that I took it back because she refused to pay me. No one.
Amber replied:
I haven't actually cried about this yet. I think it just hit me. I don't have the words for what happened in this room. For the $3,300 I've already paid, I now have nothing.
Amber said that the act by the contractor ended up in another damage to her house.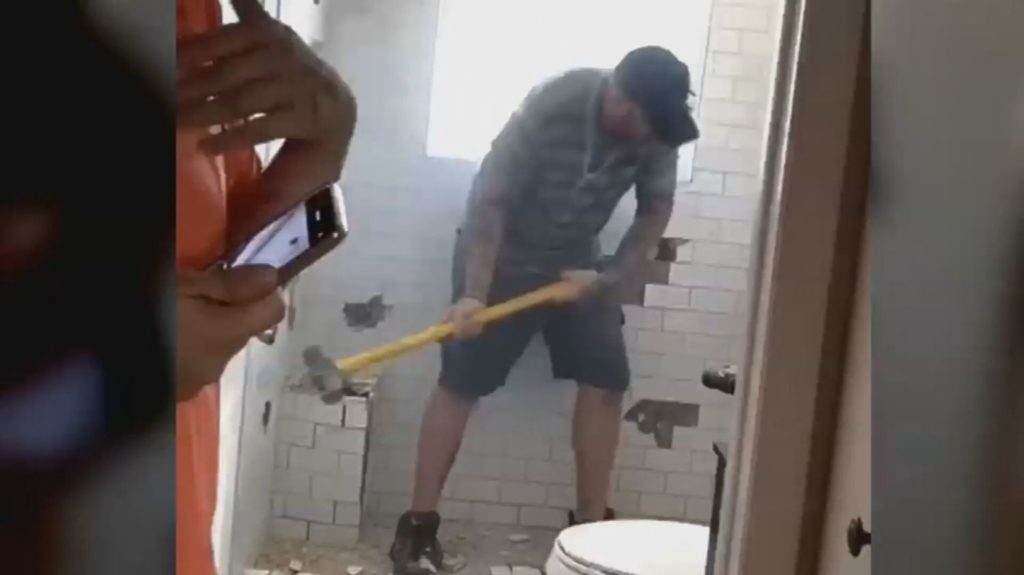 She said that the drywall in the next room cracked as a result of the actions of the contractor.
Jordan Cazares, the co-owner of the Dream Home Remodels, released a statement about the incident.
They said:
After several weeks of work for a customer, communication broke down at the end of a project. There was no displeasure expressed, and we proceeded to ask for payment on the project by the end of the day. Communication broke further after that and resulted in our company repossessing a tile shower. We regret that this contract went sour. It has never happened before and is not something that is made regular practice. There was several other projects included in the contract that she is also unwilling to pay for, including a vanity, mirror, light fixture, 2 ceiling fans, plumbing work, fixing rotten framing in her walls, and an exterior door replacement.
An official police investigation has also been launched.
What are your thoughts on this one? Let us know what you think about it by leaving a comment in the comments section below!