An amateur fisherman who caught a massive 13 foot hammerhead shark said dragging it out of the ocean was like lifting a car.
Blake Cochran, a paramedic, caught one of the biggest fish of his life when he reeled in a hammerhead shark.
The man said he and his 2 pals dragged it out the ocean to take a picture with it.
After taking a picture with the shark, the group of men released the giant back into the waters of the North Carolina Coast in America.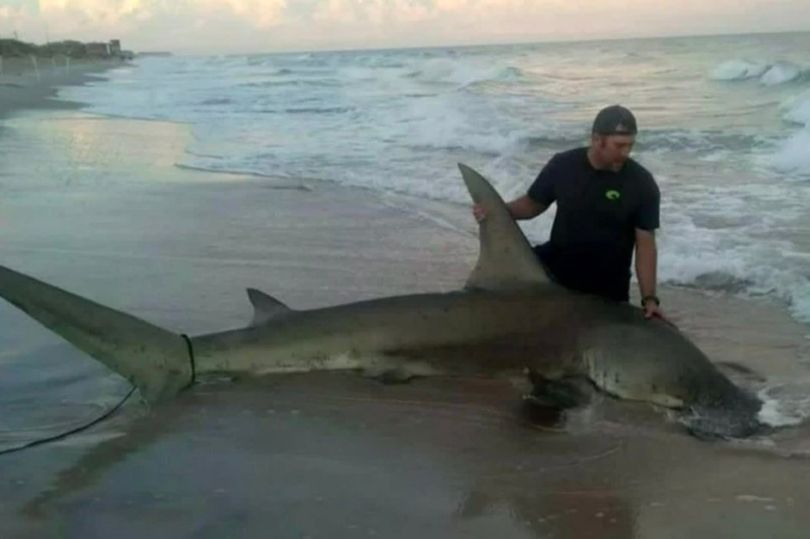 Talking about his catch, he said:
I knew it was something big. The biggest shark I've caught up to this point was like four feet, and this one when it pulled in – it was insane.
He and his friends caught the massive shark last month.
The group of friends were on a kayak around 400 yards offshore when they got the shark.
Blake said he and his friends head out to catch small sharks and a large number of red drums, however, they never wanted to catch a massive 13-foot shark.
Talking about their hopes while fishing, he said:
It's almost like catfishing from the beach. It's kind of like what it is. You sit and wait and you take your bait out. And all of a sudden, that reel started screaming. It was like being hooked to a car.
As soon as he saw the dorsal fin of the shark, he knew right away that it was a hammerhead shark.
Once the shark was out of the waters, the group of friends took images of it right away and they worked to release it back to the ocean.
Talking about the shark, he said:
He was pretty heavy. It takes two to three people. You wade out to your neck and revive them and then let them go.
People at the beach were also shocked to see the massive shark, with Blake saying:
When we caught that one, a lot of folks came up and said, 'Oh my God, I'm not gonna let my kids swim here'. There are sharks in the water. It's the ocean, it's their home. They're not gonna bother you unless you bother them.
The best thing about this is that Blake and his friends did not harm the shark and they released it back into the ocean right away.
What are your thoughts on the massive shark? Let us know what you think about it by leaving a comment in the comments section below!