A 35-year-old man has been arrested in New Delhi, India, for brutally beating up a calf with a brick because it came in his way and hit him.
According to reports, the incident happened in the Vinod Nagar of East Delhi on Tuesday this week.
The man was arrested after the video of the incident was shared on social media.
In the 1 minute long video, Kamal Singh, the man that beat up the calf, was see using a brick to hit the poor calf.
The authorities were alerted about the injured calf through social media after social media users tagged DCP Deepak Yadav.
In the video, the man was seen walking on the street when the calf hits him accidentally and a polybag in his hand fell down.
At first, the man kicked and punched the calf, after that, he got a brick and started to use that as his weapon.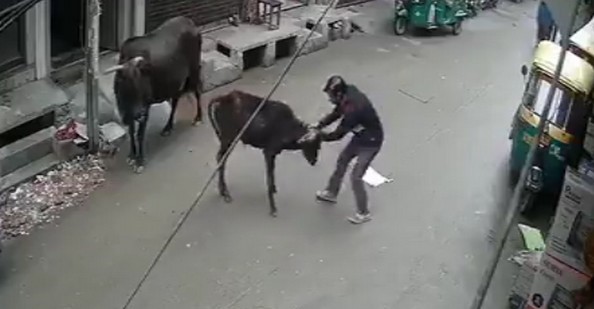 The calf was traced down by the authorities and it was sent for a medical examination at the Sanjay Gandhi Hospital, where they got proper medical treatment.
DCP (East) Yadav added:
The calf was sent for medical examination at Sanjay Gandhi Hospital and given proper medical treatment. Kamal has been arrested under Prevention of Cruelty against Animal Act.
The calf is currently safe and is recovering from their injuries.