A snorkeler has found a groom's missing $1000 wedding ring after spotting it around the neck of a white fish.
What are the odds, what are the odds?
Suzie Quintal and Nathan Reeves, a couple from Gold Coast, were visiting the Norfolk Island in Australia, when the husband realized that his ring had fallen off.
The family were visiting the island to see their family over the Christmas period.
The family lost all hope when that happened last year, but that changed this week.
Susan Prior, a local snorkeler, spotted the missing ring lodged around the body of a mullet fish.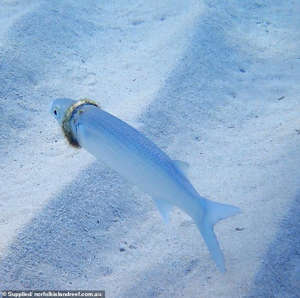 The woman managed to know that a couple had lost their wedding ring earlier this year.
Prior tracked them down through a community page.
During an interview with Daily Mail Australia, she said:
The metal can only be removed by catching the fish in a net and gently removing it. The fish seems to be OK so far but as it grows, the ring will cut into it.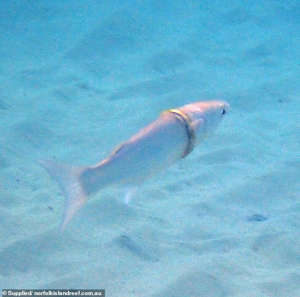 During an interview with Daily Mail Australia, Suzie Quintal said:
He tried to look for it and then broke the news to me and I was not happy. I always tell him to take it off before he goes for a swim. He lost it a day before our second wedding anniversary.
The woman said that locals on the island offered their help but they still had no luck on finding the ring at the time of the incident.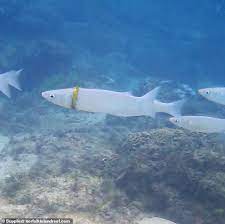 Talking about Prior finding her ring, she said:
I just couldn't believe it. I've got a few friends on the island and they're pretty adamant that they'll find it. It doesn't worry my husband, he doesn't understand all the fuss. I'm just worried about the poor little fish.
The woman and her husband are currently waiting for someone to reach out to them about the ring.
Let's hope the couple get their ring back.
What are your thoughts on the unusual incident? Let us know what you think about the incident by leaving a comment in the comments section below!