The three teenage sisters who killed their abuse Russian father could be spared from jail time.
According to official reports, the three sisters stabbed their father to death in 2018.
Krestina, Angelina and Maria Khachaturyan, the three sisters, stabbed their father to death claiming that they had suffered years of abuse and torture from him.
The three girls, who were 19, 18 and 17 when the incident happened, admitted to using a knife when killing their father.
Their father, 57-year-old Mikhail Khachaturyan, was known as a known "evil abuser" who was also a sexual predator.
The 2 sisters, the elder ones, are facing murder charges, however Maria, the youngest one, was declared mentally unfit.
According to a new report by The Sun, a psychiatric evaluation from Russian Experts suggests that the sisters could be declared of their father's murder.
The psychiatric evaluation shows the sisters were all suffering from PTSD (Post Traumatic Stress Disorder) at the time of the killing.
The report says that the girls are in a unstable unstable' psychological state and carried out the act as they feared for their lives.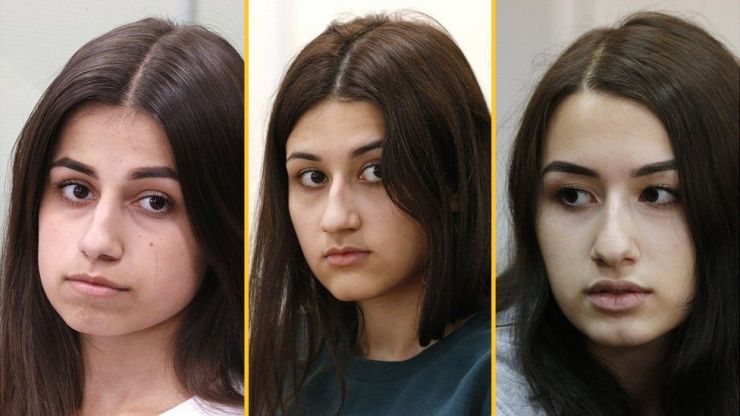 Mari Davtyan, Angelina's lawyer, said that the evaluations have proved that the father was violent towards their daughters.
She said:
The experts found that each of the girls since 2014 suffered from abuse syndrome and post-traumatic stress disorder – all of these conditions have a direct causal relationship to Khachaturian's actions.
According to the Serbsky Institute of Psychological Psychiatric and Medical Examination, the father would make death threats against the sisters if they did not agree to what he was saying.
The examination by the Serbsky Institute of Psychological Psychiatric and Medical Examination also found out that Mikhail had special "sexual preferences aimed at his own daughters".
They also called him a tyrant.
The father was also found of carrying out manipulation tactics including threats, violence, humiliation and 'beatings, mocking them, and physical and sexual abuse.
At one point, Mikhail also told one of his daughters saying that she would be taking the place of their mother.
He also threatened the girl to give birth to his baby.
Mikhail would also order his 3 daughters to remove their clothes in front of him because he wanted to check them out.
The father also 'ordered them to sexually pleasure him, saying that he had problems with his prostate and it would be a cure.'
However family members of the father said that Mikhail did not sexually abuse the daughters or abuse them.
The family also said that they killed the father for his money.
Right now, the eldest 2 sisters, Krestina and Angelina, are currently facing anywhere from 8 years to 20 years in jail.