Alana McLaughlin, a transgender fighter who used to be in the US Army Special Forces, submitted Celine Provost in their MMA Debut.
Alana is the first openly transgender athlete to compete in mixed martial arts in the United States since 2014.
She won her MMA debut on Friday night after beating Celine Provost via submission on the Combate Global prelims in Miami, USA.
McLaughlin used a rear-naked choke to get the finish at 3 minutes 32 seconds of the second round.
Alana is the second transgender woman to fight in MMA.
Fallon Fox, the first transgender woman to do it, was cageside watching Alana.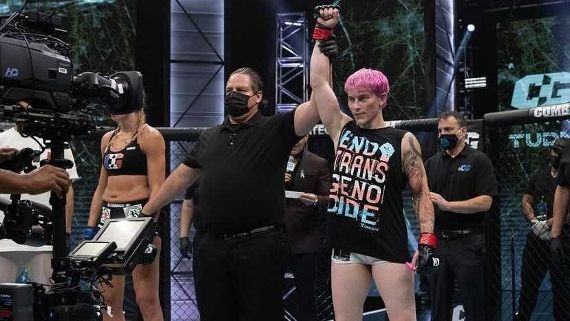 In the first round, Provost rocked McLaughlin with a number of punches and looked to be on the verge of a finish, however during the second round, the fighter took Provost down, got her back and cinched in the choke.
38-year-old Alana passed all the medicals before the fight.
She also passed a hormone panel, which was issued by the Florida State Boxing Commission in order to compete on Friday night.
According to Mike Afromowitz, the executive of Combate Global, Alana was training at MMA Masters in the Miami area.
Before the fight, she said:
It was a nightmare trying to find an opponent. I have nothing but respect for [Provost].
McLaughlin is hoping to be a pioneer for transgender athletes in combat sports.
Alana said she wants to open the door and make space for others like her.