The news a lot of people have been waiting for.
Donald Trump, the current sitting, not for long tho, will no longer be tweeting anything vulgar anymore because Twitter has announced that Donald has been banned from the platform for life.
After the Capitol Hill chaos, social media platforms such as Facebook and Twitter have announced that they have banned Donald from their platform.
In a post that was made by Twitter, they said:
In the context of horrific events this week, we made it clear on Wednesday that additional violations of the Twitter Rules would potentially result in this very course of action. Our public interest framework exists to enable the public to hear from elected officials and world leaders directly. It is built on a principle that the people have a right to hold power to account in the open. However, we made it clear going back years that these accounts are not above our rules entirely and cannot use Twitter to incite violence, among other things. We will continue to be transparent around our policies and their enforcement.
Here is the official statement that Twitter released on Donald's ban: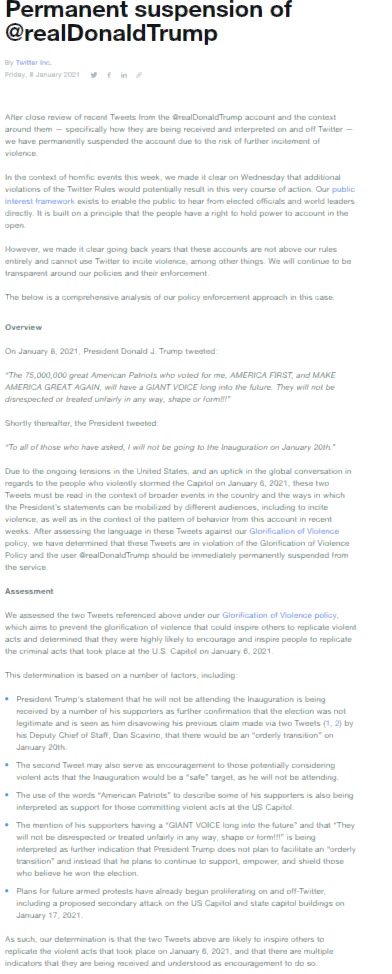 After the chaos in Capitol Hill, Trump got a 12 hour ban, but after things got escalated, Twitter announced that they have decided to ban him for good.
His account has now been permanently suspended by Twitter because of 'the risk of further incitement of violence'.
What are your thoughts about this? Let us know what you think about Donald Trump getting banned on Twitter by leaving a comment in the comments section below!