A woman from from the Philippines has shared a horrifying story, where she said that she got a fried battered towel instead of the chicken that she had ordered.
The woman shared images of the fried towel and even tagged Jollibee Philippines.
Alique Perez, the woman, said in a post on Facebook that she got a giant towel instead of the chicken that she had ordered.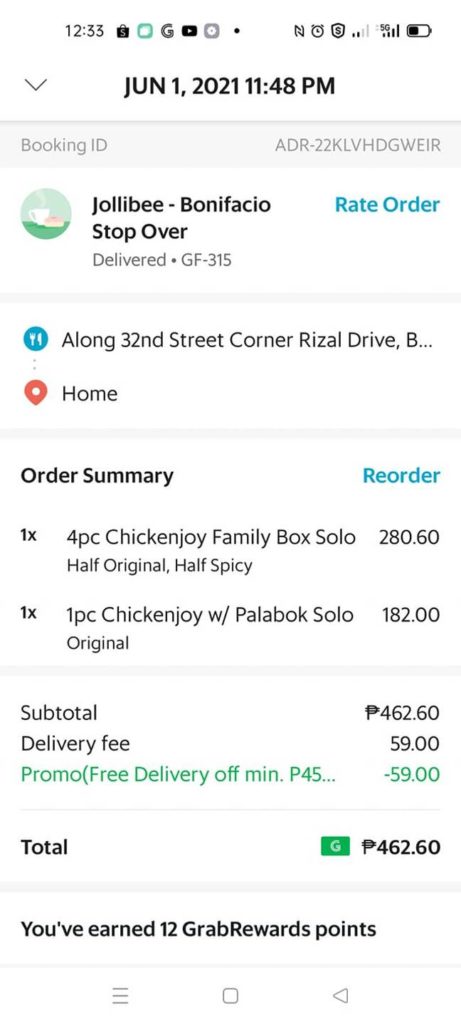 In the post that she made on Facebook, Perez said:
We had Jollibee delivered via grab. Ordered chicken for my son, while I was trying to get him a bite, I found it super hard to even slice. Tried opening it up with my hands and to my surprise a deep fried towel. This is really disturbing… How the hell do you get the towel in the batter and even fry it!?!? I really thought that the post complaining about weird stuff in their orders were just all made up, now I know that it really happens!  So disgusting and embarrassing… to think that you're even branched in BGC [Bonifacio Global City]. There's a first for everything. And this has been the worst first! Calming myself down for this… But WTH. The essence of the towel contaminated the oil and the batter from the supplier so how many chickenjoys are affected? We won't know.
The branch that carried out the delivery has been shut down by the head of the chain after massive outrage was seen on social media.
The family spent over 460 pesos in the order.
In a statement that Jollibee made, they announced that the branch will be closed from June 3 to June 6.
They are now investigating the incident.
The fast food chain has also released a statement about the incident, saying:
This concerns the customer complaint on food ordered late evening of June 1 from a franchised store in Bonifacio Global City. We are deeply concerned about this matter and have conducted a thorough investigation of the incident.  It is unfortunate that deviations from Jollibee's standard food preparation procedures occurred on the part of certain personnel of the store. As a result of this incident, we have directed the Jollibee Bonifacio – Stop Over branch to close for three days starting tomorrow, June 3, to thoroughly review its compliance with procedures and retrain its store team to ensure that this will not happen again. We will also send out reminders to all stores to ensure the strict adherence to Jollibee's food preparation systems. Jollibee has carefully developed and complied with food preparation systems to ensure that we deliver excellent quality products and customer satisfaction. We will continue to endeavor to deliver on the high standards we have set for ourselves and our franchisees. We at Jollibee are committed to take the necessary steps to maintain the trust and loyalty that our customers have given to us throughout the years.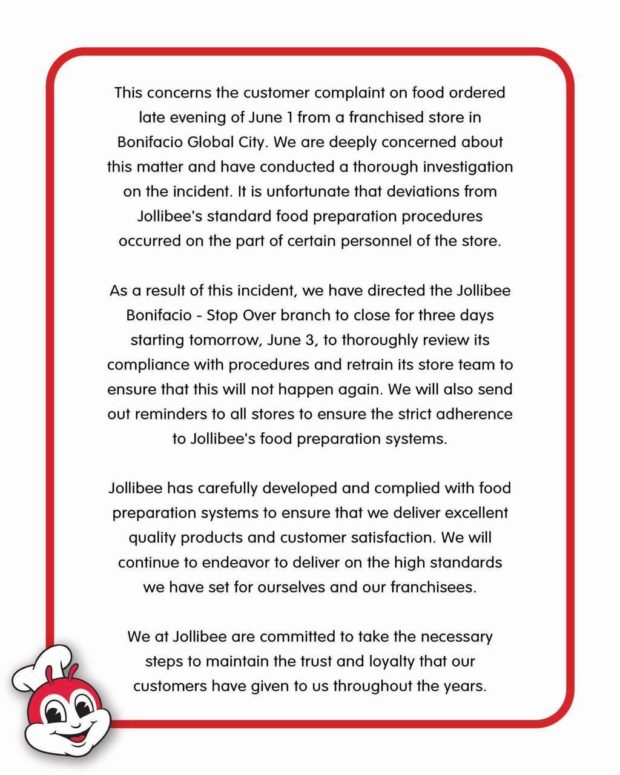 That's pretty disgusting to be honest.
Jollibee Philippines did not reveal if the mistake was caused by an employee or some other reason.
What are your thoughts on this? Let us know what you think about the horrifying order by leaving a comment in the comments section below!