A man in London has returned to their house for the first time in 10 months after beating the coronavirus.
40-year-old Andrew Watts was one of the sickest patients of coronavirus that were admitted to the Queen Elizabeth Hospital in London, UK.
A doctor at the hospital said that it was believed by many healthcare professionals that he would not survive, but the man did and he was discharged from the hospital on October 21, 2021, after spending 300 days at the hospital.
The father of 2 kids spent around 8 months in ICU and was placed in a medically induced coma for 5 weeks.
He faced 5 episodes of lung collapse as a result of COVID pneumonia.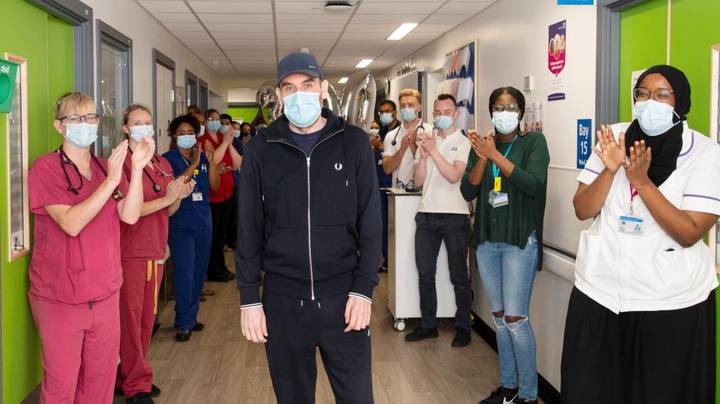 During an interview with Evening Standard, Andrew talked about what happened.
He explained:
A week before Christmas 2020, I started to feel ill. I wasn't eating and I was losing weight, but I thought it was just the anxiety getting to me. When I was admitted to hospital with Covid I initially responded well to treatment, but then my oxygen levels started to drop and I was taken for a CT scan. That was when I was told that I had a pneumothorax, which is a split on the lung. I was on my own as this was the height of Covid, with no visitors allowed, so it was a lot to take in. By this point I was crying my eyes out, on the phone to my sister Hannah and my wife Hayley, but I didn't want to tell my mum or my dad. I couldn't bring myself to tell them.
Before getting the virus last year, Andrew was diagnosed with lymph cancer in October 2019.
His chemotherapy was successful and he was in remission when he got the virus.
Because of the virus, his condition worsened very fast, and he placed in a coma because of his lungs collapsing
The good thing is that his lungs started to improve and in June this year, he was taken off the ventilator.
After getting off the ventilator, his family was allowed to visit him, however, he had to adjust and learn a lot of things again.
He had to learn to talk again, walk again and was only capable of communicating with a stick.
Recalling what he went through, he said:
I kept thinking 'why me?'. It was very hard to stay positive. But I remembered how when I was going through my chemotherapy I was told to look forward, set myself little goals and when I'd achieved them set myself another one. So that's what I did.
While he was recovering, his left lung and a third of his right lung collapsed again, which resulted in doctors putting him in another medically induced coma.
After recovering again, the doctors moved him to a ward and recovered completely there.
On October 21, 2021 doctors, nurses, physios and speech and language therapists clapped for him as he left the building.
Talking about the hospital, Andrew said:
The care has been fantastic but my journey is nowhere near finished yet. Going home is one major goal, but then that just starts another road in my recovery. I started walking just four weeks ago, and my next goal is to walk to my son's school and back by Christmas.
Dr Dan Harding, Consultant in Intensive Care Medicine, talked about Andrew.
They said:
We are all really proud and pleased that Andrew has finally been able to go home after 10 months in hospital. He was one of the sickest Covid patients we've seen, so to see him walking out of the hospital with his family was a very happy and emotional day for me and all the other staff involved in his care.
We wish Andrew and his family the best in life.