A patient in Lithuania went through surgery, where doctors found a kilogram of nails, screws and nuts that he had swallowed after he stopped drinking booze.
The man, who was not named, was admitted to the Klaipeda University Hospital on the Baltic Sea coast with severe abdominal pain.
An x-ray of his stomach then revealed that he had been eating nails, bolts, nuts, knives, wood screws and other metal type objects.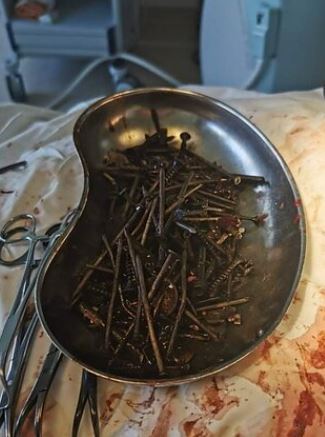 Sarunas Dailadenas, a surgeon, who performed the 3-hour surgery, said that the case was unique.
He then explained that the man had damaged the front wall of his stomach by consuming the metal objects.
During an interview with LRT, a local news agency, Dr. Sarunas said:
During the three-hour operation with X-ray control, all foreign bodies, even the smallest ones, in the patient's stomach were removed.
Medics were tediously tasked to make sure that the sharp objects inside the stomach of the man would be removed in extreme care.
The patient is now in a stable condition and is being monitored.
Algirdas Slepavicius, the hospital's head surgeon told local media that they have never seen a case like this before.
Sewing needles, pennies and spoons were also found by the doctors.