A woman from the United States of America is currently facing 12 counts of animal cruelty charges after officials found 15 dead animals in her property and a dozen in deplorable conditions.
The incident was reported last month but it was only made public recently.
The Phoenix Police responded to a report of animal neglect at a house near Van Buren and 40th streets.
Phoenix police spokesperson Sgt. Maggie Cox said that they had probable cause to arrest Rachel Ussery-Welch on suspicion of 12 counts of animal cruelty
Details about the events leading to the arrest of Rachel Ussery-Welch were not available as she was not in the Maricopa County Superior Court's system.
It remains unclear on how Rachel Ussery-Welch was tied to the home and the animal cruelty charges.
A report from the Arizona Humane Society said that she was responsible for the wellbeing of the pets.
Animal cruelty investigators with the humane society on April 18 were called to assist the police with the case.
5 dogs, 1 cat, 2 chickens, and 6 reptiles were found living in deplorable conditions.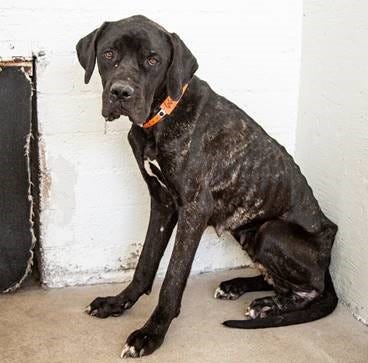 15 other pets were found dead on the property.
One of the 5 dogs, who has been identified as Pandora, was found locked in a crate with no water and food.
Pandora is a 3-year-old Great Dane Mix.
She is currently being treated at the Second Chance Animal Trauma Hospital in Phoenix.
A news release about the incident said:
In one of the worst hoarding scenes AHS' Animal Cruelty Investigators have seen this year, Pandora was rescued weighing just 57 pounds. At her age and for her breed, she should weigh double that amount. Pandora was in the worst shape and suffering from dehydration, several wounds, an ear infection, hookworms and a poor coat likely due to a lack of proper nutrition.
Pandora within 10 days at the hospital reportedly gained around 10 pounds.
But the treatment will not stop there.
Ongoing medical care such as foster care and proper feeding will be required for a long time, said the news release.
The four other dogs and a cat were also taken to the trauma hospital.
The Phoenix Herpetological Society was caring for the reptiles and the New Dawn Sanctuary was caring for the chickens.