A 7-year-old boy from Egypt was tied to a pole and was covered in honey to attract bees as punishment. 
The images of the horrifying act were shared on social media, where they went viral and caused public outrage.
Images show Muhammad D, the boy, tied to a pole by a rope after a neighbour accused him for theft.
His father, who is 34, carried out the act, which made the authorities arrest him.
The incident happened in the region of Shebin El Qanater on Tuesday, May 25, 2021.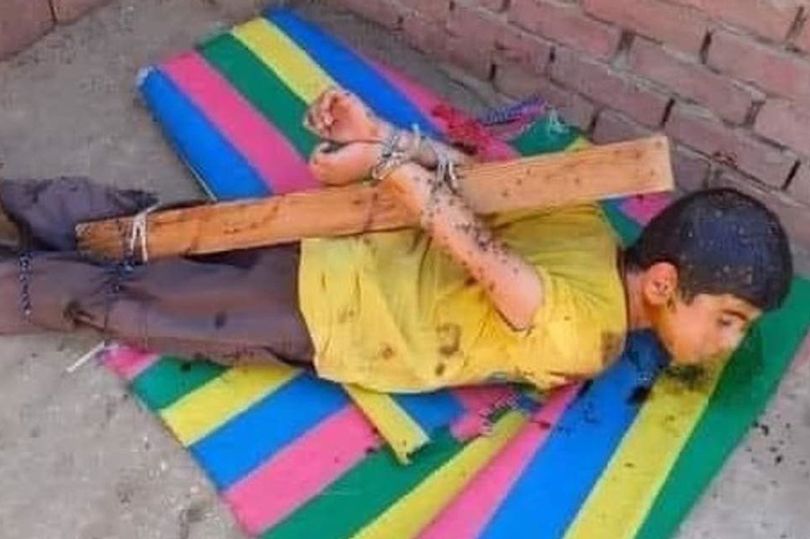 The father tied up the boy to the pole with his hands behind him and covered him with honey to attract bees.
The father, who was not named, placed his son on the roof of their house after tying him up on the pole.
Mosquitos and bees attacked him as a result of the incident.
It is unclear how long the boy was left on the roof of their house.
The 29-year-old mother of the boy was left horrified when she saw the punishment of her son and decided to get help from a child rescue group.
She took pictures of the incident by using her phone with the images now being used as evidence against the father.
After her plea for help, prosecutors from the Egyptian Governorate of Qalyubia were contacted.

An official investigation has opened up.
The authorities found the boy in a deplorable state due to the horrifying and heartless punishment by the father.
Authorities did not provide a further update on the status of the woman and her son after the incident.
The mother is now staying in a different village.
The mother, who was not named, also claimed that her husband would beat her and was constantly looking for new ways to torture their child.
The woman accused the husband of driving their son of food and water for long periods of time.
Despite the father being in the custody of the authorities, he is not yet charged.