The police were called to untangle 7 baby squirrels after their tails got knotted up.
The police officers in Michigan, USA, carried out a rescue mission after a 911 call last Friday, where they were informed that a bunch of squirrels were knotted up.
The police found 'scurry of young squirrels' at the base of a tree after rushing to the scene in Grand Blanc.
Pictures show that the animals dangerously fused together after they became stuck after they were born.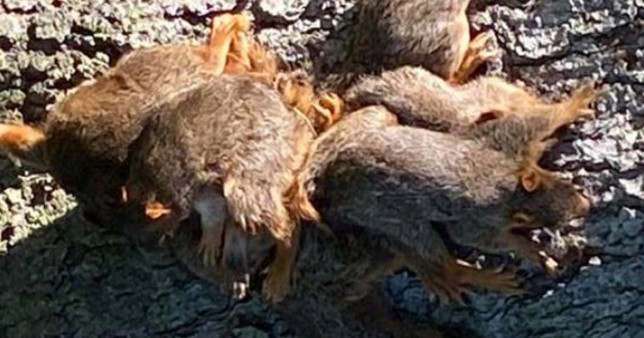 The squirrels grew so big and their nest failed to hold them, which led them to fall to the ground.
The police rescued the animals by separating seven 'under the watchful eye of mama squirrel'.
The Grand Blanc Township Police Department shared a post on Facebook.
In the post, they said:
SQUIRREL!!! Takes on a whole new meaning for officers. 911 received a call of 7 squirrels, who were tied together by their tails. Sure enough a scurry of young squirrels were found at the base of a tree, in the 2100 block of Russell St. It appears they became entangled while in their nest and finally grew to a point the nest couldn't hold them. Under the watchful eye of mama squirrel, officers with the help of a citizen were able to separate all seven kits. Their tails will need a little time to fill back in, but they are safe. Great team effort! #squirrelpower #crazybuttrue.
Locals in Grand Blanc praised the police for helping out the squirrels.