Some teachers and educators need to read this story.
A middle school principal from Indianapolis, USA, was caught on camera helping out a student that was having insecurities about their haircut.
The principal reportedly fixed the haircut of the student instead of disciplining him for wearing a hat to the school.
Jason Smith, who works at the Stonybrook Intermediate and Middle School in Indianapolis, Indiana, was asked to step in when Anthony Moore, a student, refused to take his hat off.
The student reportedly spent 30 minutes speaking with a school dean, however, they still could not understand why Anthony would not remove his hat.
Talking about the incident, Smith said:
I sat across from him and asked, 'What's wrong? Why are you being defiant, why are you refusing to take your hat off? It's a pretty simple request.' And he explained that his parents took him to get a haircut and he didn't like the results.
Smith and the dean said that they thought the haircut of Anthony was fine, but they also understand that students have other things on mind.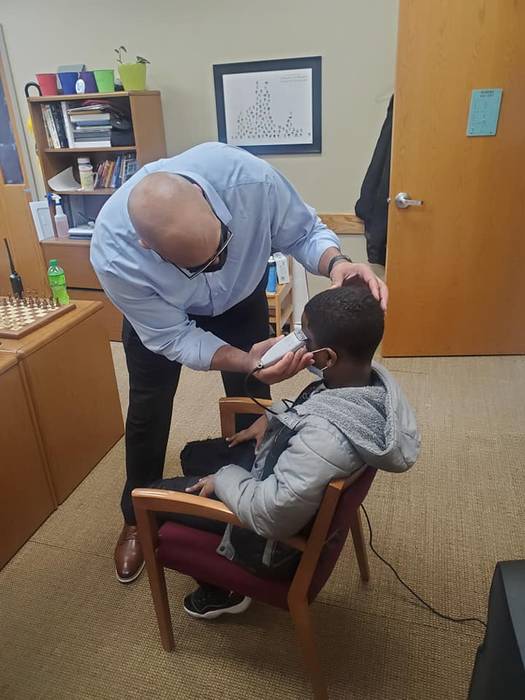 Smith understands that social acceptance is more important than adult acceptance.
Students who refuse to abide by the school's dress code are punished with an in-school suspension or they are sent back home.
Instead of disciplining the kid, the man decided to help them out.
The principal said that he had been cutting hair since he was little.
He ended up getting his clippers and fixing the hair of the student.
Before carrying out the haircut, the man called out the parents of the little kid.
The principal commented:
He didn't say straight out, but I feel like he didn't want to be laughed at. The barbershop and hair cuts as Black males is very important in the community and looking your best and being sharp — it's just a cultural aspect. Just from my being a Black male myself and coming through that culture and you know, I really think girls matter at that age, which [means] appearance then could matter. He was scared he was going to be laughed at and we were pretty sure no one would notice, but he was looking through his lens.
After carrying out the magic, Moore went back to class.
More then went back to his class and was really satisfied to know that the student was happy with the haircut and was not wearing a hat.
Such an amazing thing to do, considering that the principal preferred to help instead of just making things worse for the kid.
What are your thoughts on the incident? Let us know what you think about it by leaving a comment in the comments section below!