A video that is viral on social media right now shows the moment a TV Presenter being held at gunpoint moments before going live.
Diego Ordinola, a sports reporter, was confronted by the masked man.
The man pointed a gun directly at him and demanded his phone outside the stadium of Ecuadorean Serie A football club Barcelona SC.
The cameraman who was working with Ordinola at the time managed to record the entire incident.
They also handed over their mobile phone.
The robber sprinted off to get on a waiting motorcycle.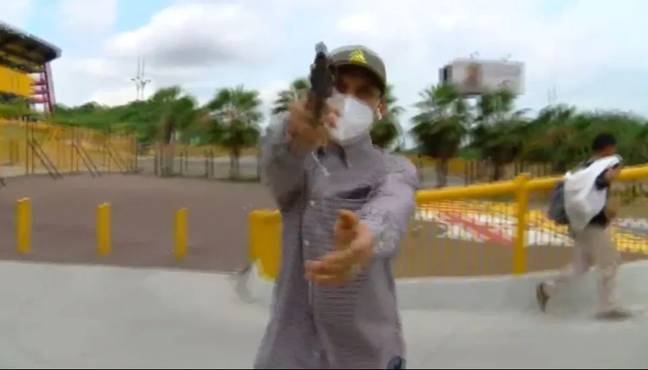 Diego shared the video on Twitter with the caption:
We can't even work in peace. This happened at 1pm outside the Monumental Stadium. The @PoliceEcuador promised to find these criminals.
After the incident went viral, the reporter shared a message to everyone that were worried about him and the camera man.
He said:
Thank you all for your messages of solidarity, I appreciate it very much. Let's unite to eradicate crime in Ecuador.
Luckily no one was injured in the incident.
What are your thoughts on the incident? Let us know what you think about it by leaving a comment in the comments section below!