A Chinese state media company is making headlines all over the world right now after they were caught promoting their country by using a video of the Swiss Alps.
Major facepalm incident.
China Daily, a state-controlled media company, was called out on Twitter after they shared a video of an "unnamed" countryside location in the country.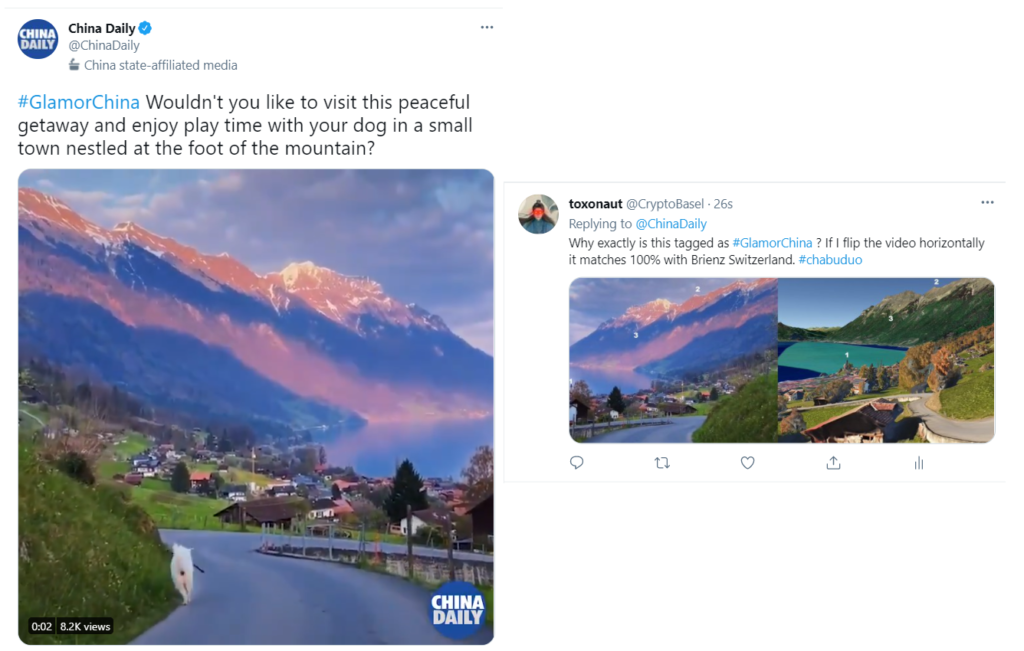 But the thing is, the place was not China.
China Daily shared the video on Twitter with the hashtag #GlamorChina along with the caption: "Wouldn't you like to visit this peaceful getaway and enjoy play time with your dog in a small town nestled at the foot of the mountain?
After the video was shared, people on social media noticed that the post was not in China.
The video was actually taken from Sylvia Michel, a photographer that is based in Brienz, a village that is located near the Swiss Alps.
For those that are wondering, China is nowhere near the Swiss Alps.
China and the Swiss Alps are around 4000 miles away from each other.
The post was then deleted.
Social media users took multiple screenshots of the video and alerted Michel on what happened.
This is the official video Michel shared:
Michel released a statement about the incident, saying:
Thanks for all the comments here and for the support. Yes, it's not legal to just take a video and post it on a channel – no matter who it is. Someone went to the trouble of recording this video, drove somewhere, maybe hiked for a few hours, edited the video, picked out the appropriate licensed music for it, etc. There is a lot of work behind a video or even a picture. Respect the work of artists, photographers, videographers and don't take it just because you can. Try to show your own view of the world – that's what makes you! I encourage you to do so!
China Daily are yet to release a statement about the wrong post that they made.
What are your thoughts on the unusual mistake? Let us know what you think about it by leaving a comment in the comments section below!