40-year-old Eugene Goodman, a police officer that protected lawmakers from Trump supporters has been awarded the Congressional Gold Medal.
That's good news right there!
Eugene Goodman has been hailed as a hero thanks to the bravery acts that he showed during the January 6, 2021, riots in the USA.
He put his own safety at risk keep vulnerable Senators, staff members, and journalists safe during the riots.
Video that went viral on social media shows Goodman leading the mob of away from the Senate Doors moments before they were locked.
US Representatives Nancy Mace, Emanuel Cleaver, II, and Charlie Crist announced a bill will be passed to award Goodman for his courage.
Officer Goodman put himself in the way to lure a violent mob away from an unguarded entrance to the chambers of the senate.
This allowed the police officer to protect staff, reporters, and senators that were inside.
Congresswoman Mace released a statement about the incident.
The statement reads:
When he was the only thing standing between Members of Congress and the violent mob, he quickly and selflessly redirected their fury upon himself so those Members could escape.Thanks to his valor, we are here today. From the bottom of my heart, I cannot thank him enough for his bravery and for his dedication to the call of duty.
Congressman Crist said that Officer Goodman is a hero.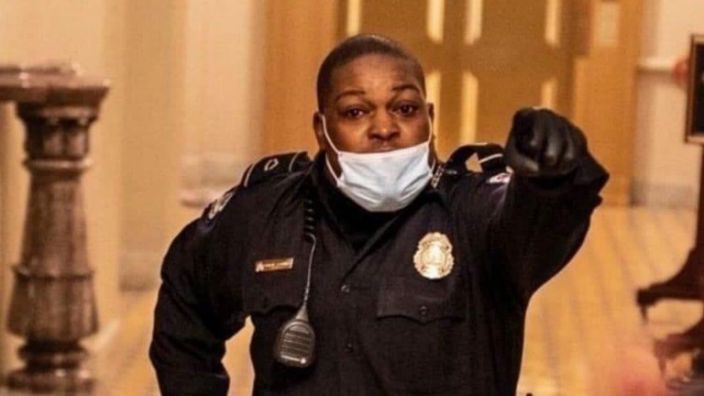 The congressman said that he was the only thing that was standing between the mob and the Senate of the USA.
They added:
I shudder to think what might have happened had it not been for Officer Goodman's fast thinking and commitment to his duty and his country. While some will remember last Wednesday for the very worst in our country, the patriotism and heroics of Officer Eugene Goodman renew my faith and remind us all what truly makes the United States great.
Congressman Cleaver said that if Goodman was not there, the citizens and the world would have seen something that they had never seen.
Congressman Cleaver added:
In moments of crisis, there are always individuals who rise to the occasion and put themselves in harm's way in defense of others. On January 6, 2021, one of those individuals was Officer Eugene Goodman. With this prestigious award, we can show our gratitude to Officer Goodman for saving countless lives and defending our democracy.
Talking about the act that he did, Goodman said that it was his job.
During an interview, Goodman said that his job is to protect and serve and on that day, he was protecting.
Igor Bobic, a political reporter for HuffPost, captured the entire incident on cam and after sharing it on social media, it went viral right away.