A man successfully found 46,000 USD cash inside a metal box that was hidden by a grandfather under the floorboards of the attic.
It was revealed by Keith Wille, a treasure hunter, that the box was filled with $46000 cash.
Wille has been helping people to find lost items for over 10 years.
He was asked to help a family in New England, USA, to find their grandfather's hidden cash box.
He was told that the cash box was hidden in the attic, however, they had no clue where it was.
Wille shared the amazing discovery on RediscoverLost, his YouTube Channel.
You can watch the video below:
In the video that he shared on YouTube, he said:
On my endoscope camera here, in the hole right here, I think I see the top of the box. It looks like a keyhole to a metal box, so we're going to have a closer look. You can see the pry marks from years past where this has been removed before.
Keith removed the floorboards and retrieved the box.
A member of the family that asked him to help them out was also heard screaming in the video.
Inside the box were stashes of cash.
There were also $5,000 bricks.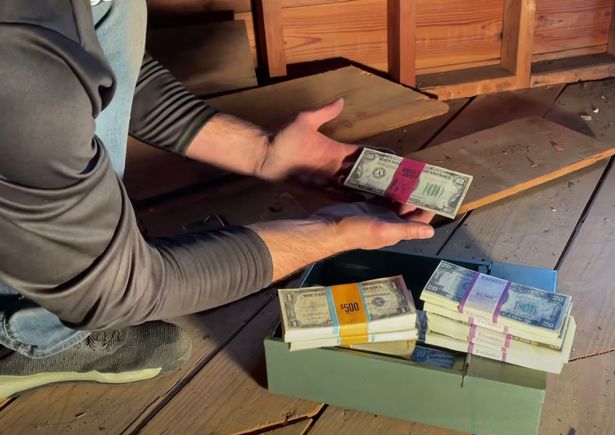 Talking about the money, he said:
These [$5,000 bricks] are not worth the face value. Collectors are gonna want these. There was a total of $46,000 (£33,156) in bills from the 1930s and 1950s.
There were also some silver certificates inside the mystery box.
What are your thoughts on the amazing find of Wille? Let us know what you think about it by leaving a comment in the comments section below!